Project Design
Santa Monica City Council awarded the contract for design for two new parks in Santa Monica's Civic Center to James Corner Field Operations and their team of experts in April 2010. The community participation process that kicked off in May 2010 included 5 public workshops and presentations to neighborhood groups, City boards and commissions. The final design for both parks and associated streetscapes was approved by Santa Monica City Council on October 25, 2011. The following is a breakdown of key aspects of the project design.
Palisades Garden Walk
This six-acre park is now officially known as Tongva Park. The design employs creative use of space to gracefully accommodate a wide range of uses and goals on a relatively small parcel of land.
Dramatic water feature at Ocean Avenue entrance
Observation Hill overlooks
Public restrooms beneath Observation Hill
Natural amphitheater and lawn
Native & locally-appropriate drought tolerant plant palette will change subtly with the seasons
Cascading water feature at the Main Street entrance
Town Square
The one-acre area in front of City Hall is now known as Ken Genser Square, in honor of our former mayor, long-time civic leader, and dedicated community member. This redesign included restoring the exterior of City Hall, a Santa Monica landmark, closer to its original state.
This photo shows what Santa Monica City Hall once looked like
The design will revitalize City Hall's front lawn
Site plan for City Hall entrance
A water feature will thematically link the parks
Elevation view of Town Square and City Hall
Schematic for Town Sq water feature
Section/elevation view of water feature
Detailed section view of water feature
Town Square plant palette
Detailed view of bench and City Hall handrails
Water Features
Water is essential to the arroyo wash design concept, symbolically and physically tying together the two public spaces. Starting as a gentle babbling brook-like fountain in front of City Hall, features will allow water to flow through the park, gaining in visual intensity as it nears the ocean.
View Town Square water feature simuation here
Site plan for water features
The Town Square water feature will resemble a gentle, babbling brook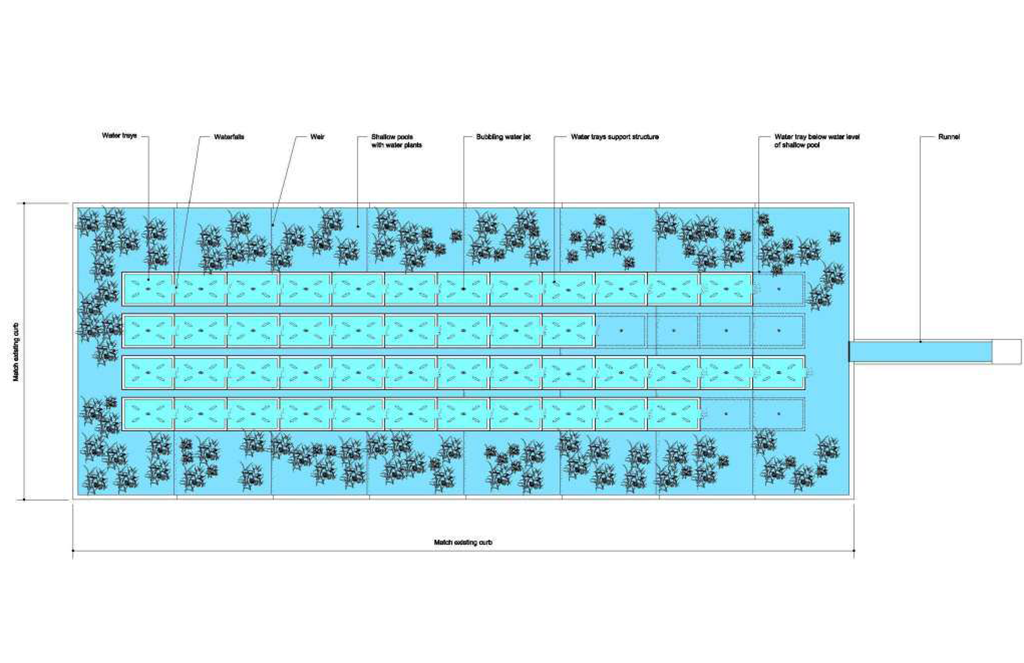 Aerial plan view of Town Sq water feature
Section view of Town Sq water feature
Example of water lilies that will line the Town Square water feature (photo by J.Snyder)
Cascading water feature at Main Street entrance of Palisades Garden Walk
Water play area at Discovery Hill
Water features will culminate in a dramatic display at the Ocean Avenue entrance
Plant Palette
The native and locally-appropriate drought-tolerant plant palette of grasses, shrubs, succulents, bulbs, and flowers will subtly change with the seasons.
For background on the inspiration behind this plant palette, check out the 3-part presentation on sustainable landscapes in the Project Library.
Structures and Amenities
A number of custom structures and materials, like integrated seating and overlooks, will help maximize use of space and bring the park design to life.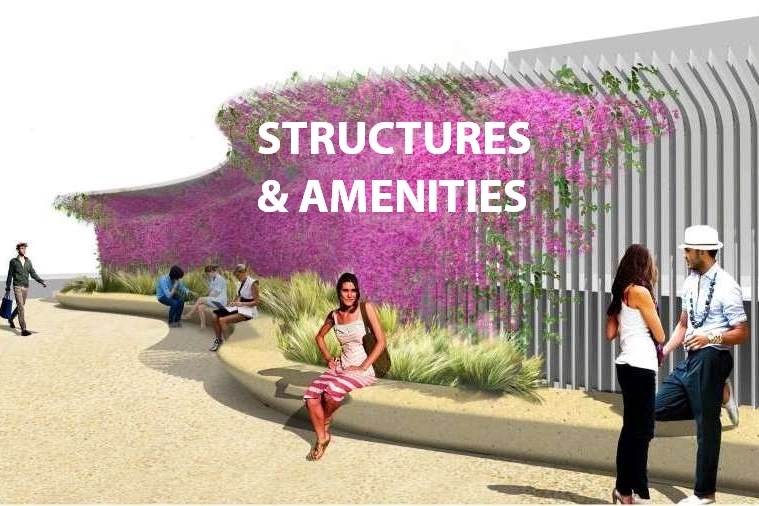 Green screens & seating along the corner near Colorado & Ocean
Integrated seating will maximize use of available space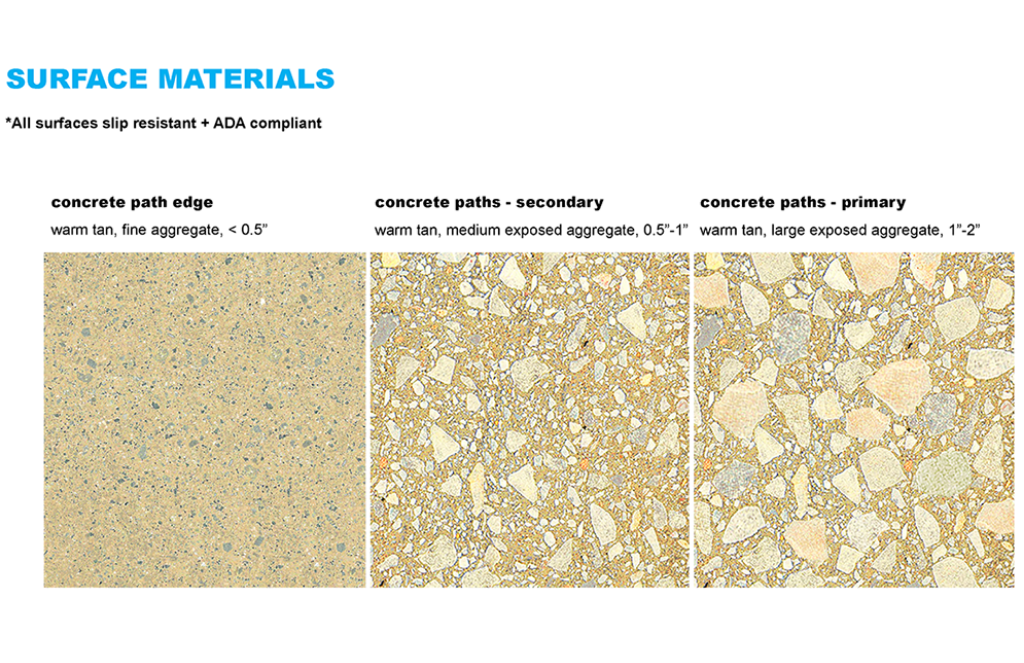 Custom surface materials extend the arroyo wash theme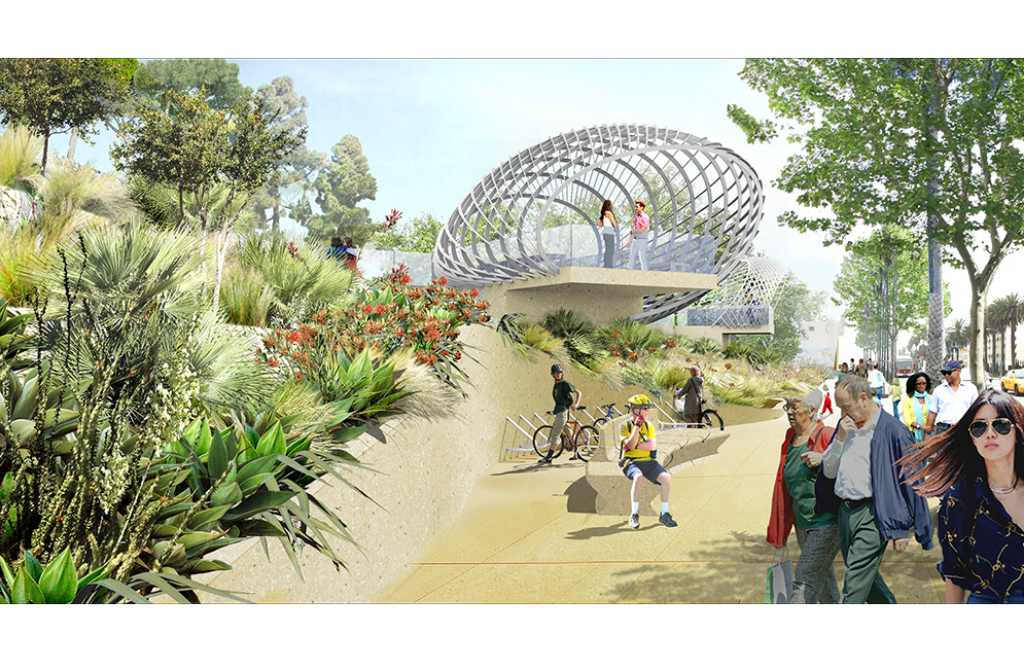 Observation Hill overlooks will require custom fabrication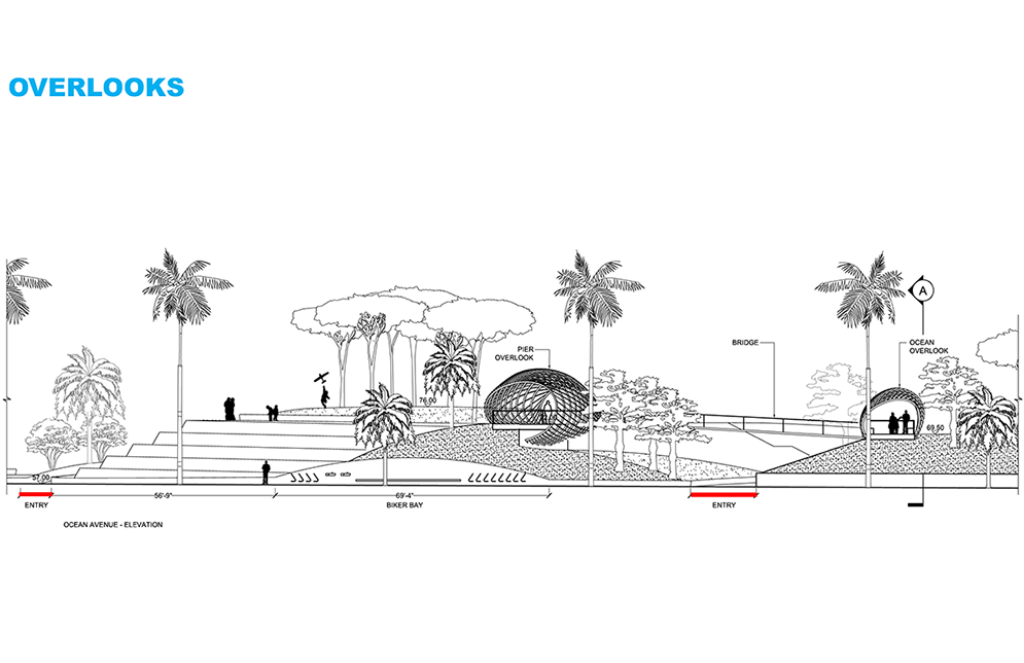 Schematic view of Overlooks
Aerial rendering of overlook structures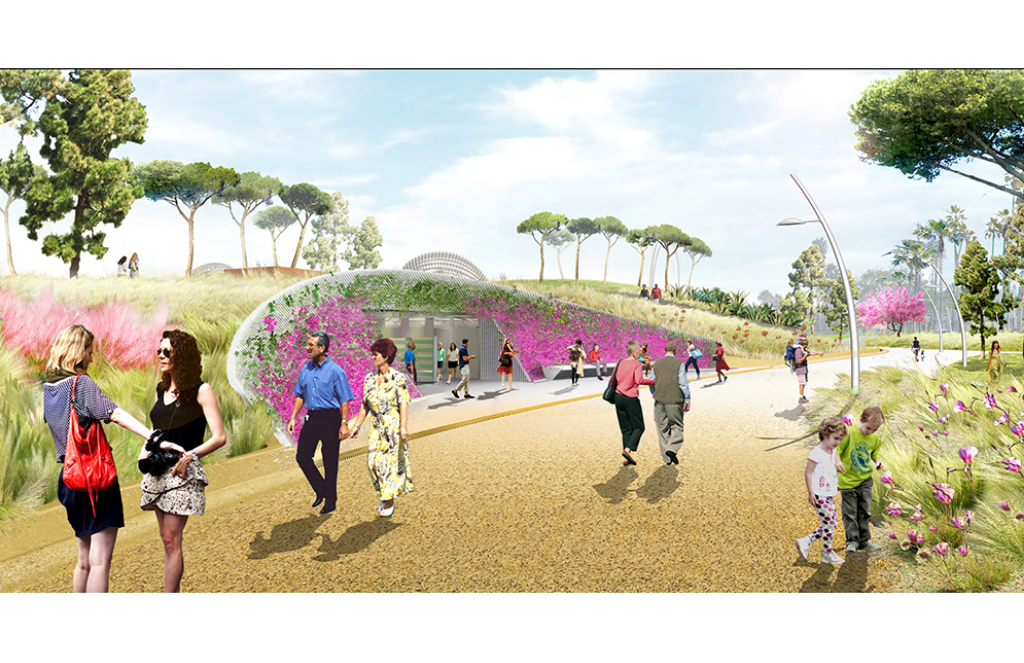 Rendering of restroom entrance
Interior view of restroom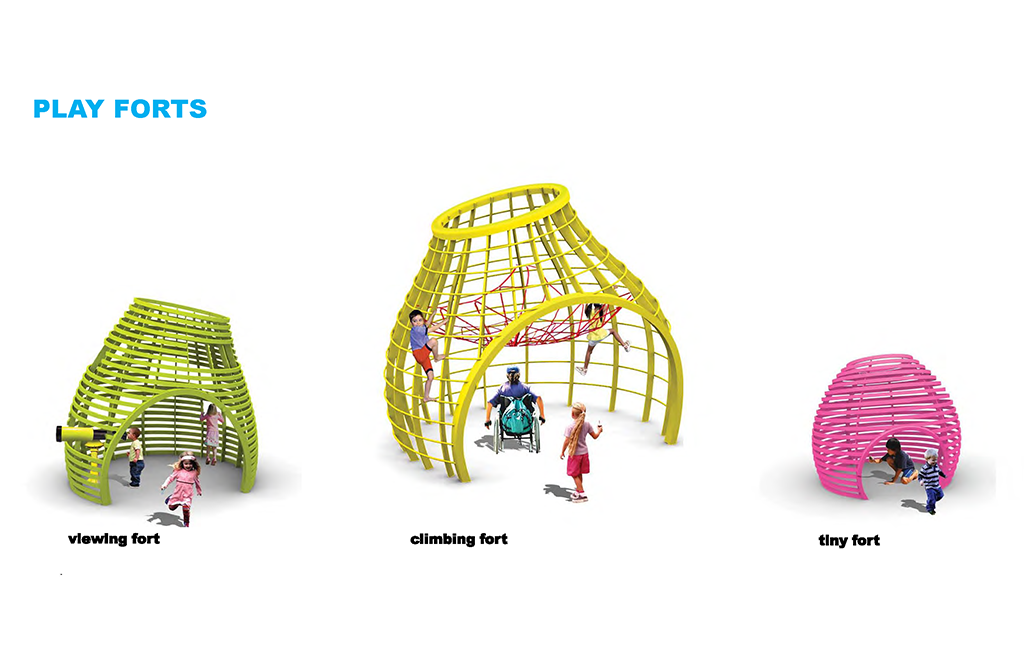 Whimsical play forts for Discovery Hill
Public Art
A preview of the public art piece that will be featured in the center of the park. For more information on the artist and inspiration behind this piece, read the Artist Statement.
View a simulation of the art piece here